Contactless digital patient check-in & screening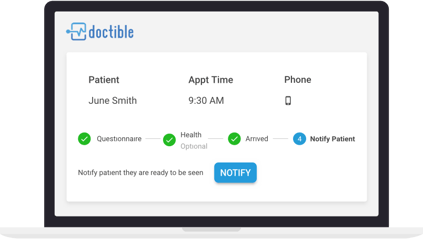 A new kind of waiting room
Helps practices adapt to the contactless era, ensuring patient and staff safety. Perform all pre-arrival tasks effectively and control the flow of patients to the practice in an efficient manner.
Rated

by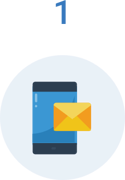 Pre-arrival Health Questionnaire
A link to a health survey is sent 24 hours and 1 hour before each visit.
Includes your practice's safety protocols.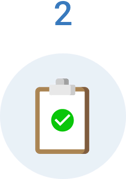 Health Questionnaire Completed
Patient completes survey and is informed of virtual waiting room based on survey answers.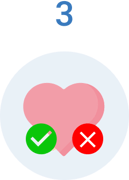 Patient Health-status Ticker Updated
Staff can track real-time patient health status updates with Doctible's dashboard.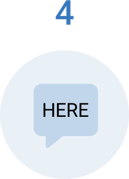 Patient Arrival Indicator
Patient texts "here" to indicate they've arrived.
The arrival indicator is automatically updated.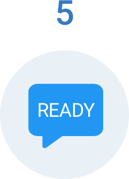 Ready for Patient
When staff is ready, a single click on a patient name notifies them to enter the office, along with any instructions or reminders (i.e., wear a mask).

Contactless intake ensures safety

Streamline patient check-in

Increased patient satisfaction

Reduces practice liability

Two-way texting simplifies patient outreach
Virtual Waiting Room Sign-Up
We'll schedule a demo and show you our webinar.