Doctible's Virtual Waiting Room Helps Staff Manage Patient Flow

There's a vast difference in how it expands our reach, because now we're able to really increase our business flow. - Administrator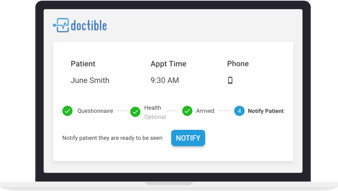 Managing the flow of patients during the pandemic has complicated front office life.
Our Virtual Waiting Room visually tracks each patient's "status" using grey, green, yellow, and red colored indicators. Use it to visually track both in-office and telehealth appointments.
Happy Patients - Happy Team

Staff is the most critical resource. Their time is valuable. The guidance of the Virtual Waiting Room: the gray, the red, the green, the yellow… it gives them a quick visual view of the visit. - COO
Doctible's Virtual Waiting Room - Helps Front Office Staff
Easily track who has been pre-screened
Automate 24 hours & 1 hour pre-screenings
Use text messages to send and receive pre-screening questionnaires
Alert patients when it's time to enter the practice (when waiting in their car)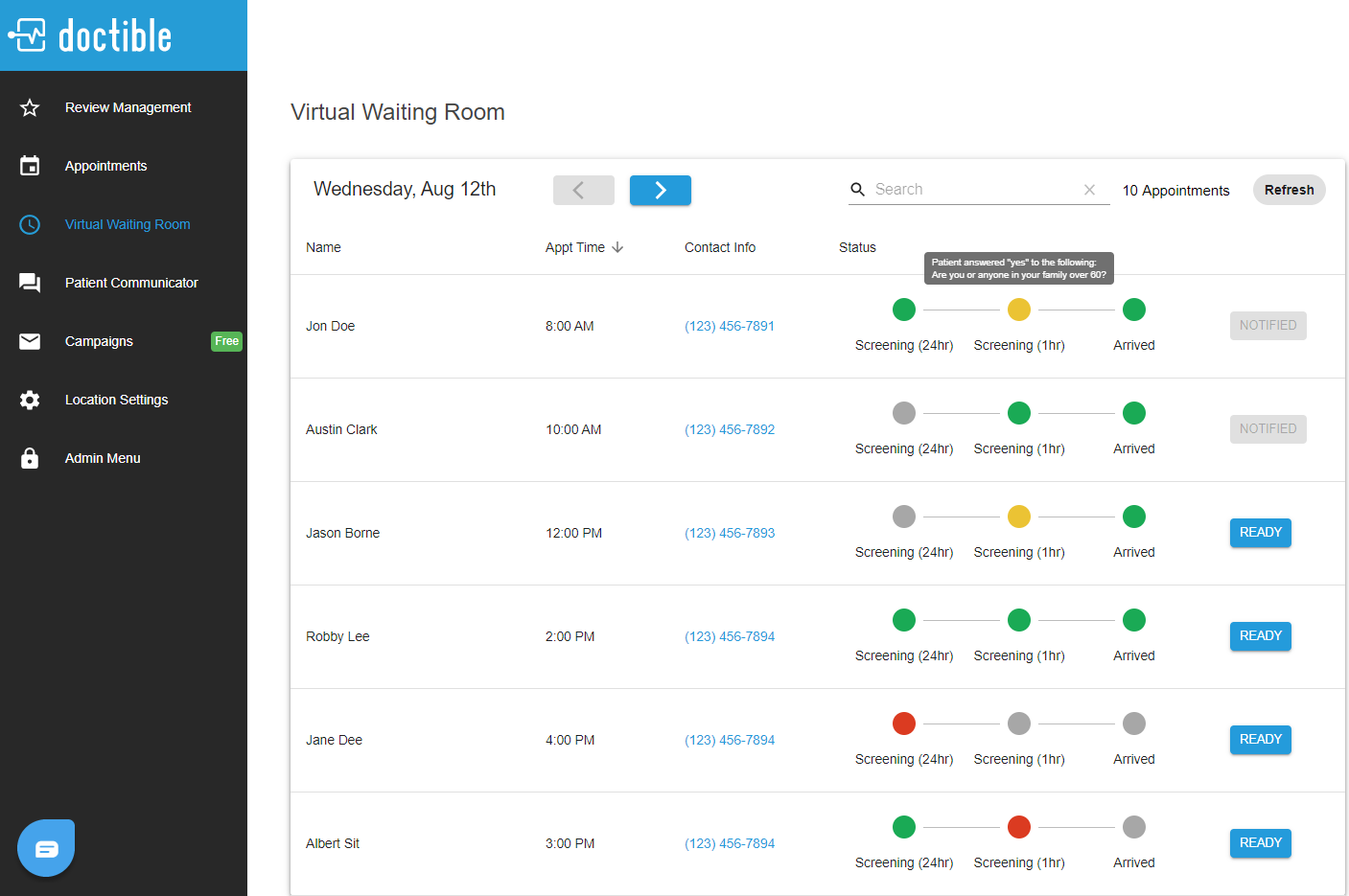 Virtual Waiting Decreases Risk Factors
By ensuring social distancing during the check-in process, the Virtual Waiting Room helps protect both staff and patients against the spread of highly contagious new variants of COVID-19.

Data shows that the new variants of COVID-19 have a higher R value, or reproduction value, meaning they are more infectious than the original strain.

While the original strain of COVID-19 has an R value of 1-3, the R value for Delta generally falls between 6-7, and Omicron is estimated to have an R value of 3-5.

What the Virtual Waiting Room actually does is provide a more efficient workflow for our team. Whether it's red or it's gray, they're able to hone in on what delays may occur in those visits, and adjust as necessary. - Practice Manager
The Virtual Waiting Room improves the patient's experience, too.
Patients receive a clear set of steps to follow. When patients arrive there are no delays. Communication starts 24 hours before their visit — keeping patients informed and making it easy to comply with COVID-19 screening protocols.

From a patient's perspective, a safe environment where they can get quality care as well as provide meaningful use of their time… especially for well child checkups, the Virtual Waiting Room actually does that. - COO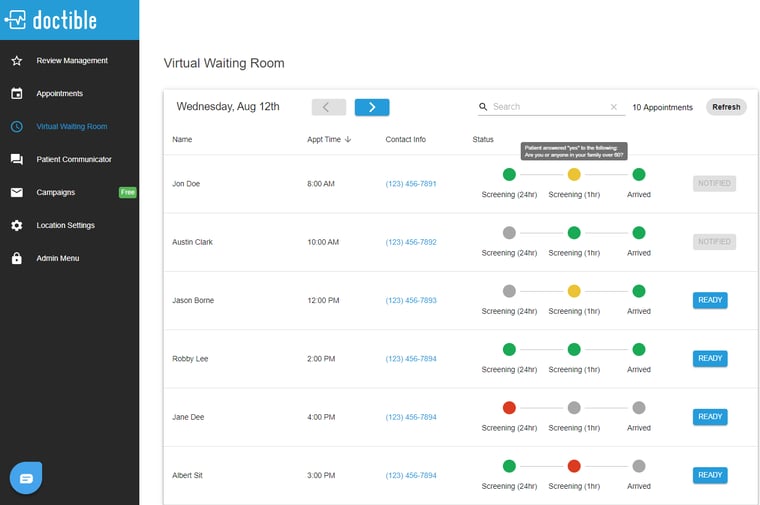 Front office staff are following up on dozens or hundreds of visits each day. Each visit can have 3 or 4 additional points of contact within 24 hours of the visit.
The economic impact can be significant
If managed poorly, it will also harm the patient experience

If it's taking such a long time to service one patient, then it just is delaying everything else, and it's income lost. - COO

You can clearly communicate with the patient what your protocols are, what your processes are, and then still really provide that quality care. - Administrator

Doctible's virtual protocols were built to increase profitability, safety, and improve patient experience. Doctible's Virtual Waiting Room allows staff to see an entire day's schedule at a glance. Grey, red, yellow, and green "flags" help staff track each patient's progress.

We're able to answer hundreds of texts a day compared to
answering 25 phone calls. - Practice Manager
Doctible's Virtual Waiting Room helps medical offices virtually screen and in-take patients, ensuring that everyone has a seamless visit. When the office is ready for the patient:
A single click will alert them that it's their time to enter

Customer care is of utmost importance. If we can get the patient in and out of a visit, then they're more apt to literally give us a better review in social media or recommend us to other individuals. - Office Manager
We have an on-demand webinar for the Virtual Waiting Room. It runs 36 minutes, and you can watch, pause, and fast forward. Click here to sign up and watch for free.
Interested in reading more about Doctible's Virtual Waiting Room?
Visit https://www.doctible.com/solutions/virtual-waiting-room

Virtual Waiting Room improves our quality of care and improves patient experience. We can easily manage contactless screenings, forms, and payments ahead of a visit. — Administrator